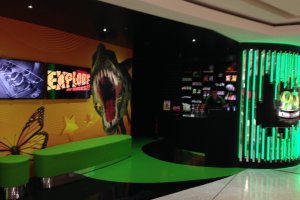 9D Action Cinemas has opened its first 12 seat, action ride cinema at Harbourside Shopping Centre at Darling Harbour, the retail and entertainment precinct of Sydney, early November. This exhilarating amusement ride boasts the latest technology in dynamic, multi-dimensional family entertainment in Australia.
Patrons experience dramatic movement in every direction while secured in the Ferrari style seats. The movement is synchronized with the animated 3D movie being screened with surround sound, while dramatic effects such as rain, wind, snow, lightning, bubbles, fog and leg whips create a frenzy of sensations.
Enjoyed by adults and children alike, patrons actually feel like they are part of the movie. There are many movies to choose from and each ride last between 6 and 10 minutes. Typical favourites are Ride the Roller Coaster, Jump on Board the Ghost Train and, for younger children, Fly Through The Jungle. Prices range from $5 for infants, $10 for students and $14 for adults but substantial saving are available for two successive rides for different movies.
"The technology is leading edge and the systems and machinery are especially designed for Australian conditions" said Nigel Corne, the Managing Director. "This is the ultimate simulator amusement ride and safety and care have been our primary concerns. Video monitors outside allow parents to watch their children on the ride if they are not brave enough to experience it themselves!" continued Mr Corne.